402
adoptions in 2019!
We can't wait to save
more lives in 2020!
Dogs and cats all have different personalities.
We encourage you to stop by and interact with them.
We have several amazing pets waiting for their furever family!
FEES
Adoption fees:
Dogs (6 months – 6 years) – $100
Puppies (under 6 months) – $125
Cats (6 months or older) – $50
Kittens (under 6 months) – $75
Senior animals (age 7 yrs and older):
Senior Dogs already spayed/neutered prior to intake – $50
Senior Dogs spayed/neutered after intake – $75
Senior Cats already spayed/neutered prior to intake – $20
Senior Cats spayed/neutered after intake – $35
* the adoption fee for dogs includes the spay/neuter, initial vaccination, heartworm test (6 mo. and older), and microchip.
* the adoption fee for cats include the spay/neuter and initial vaccination
***No animal will be allowed to be adopted unless it has been fixed first. If you are interested in a foster-to-adopt situation for a small kitten or puppy please speak to a staff member. You MUST be a resident of Jefferson County in order to be considered for foster-to-adopt ***
To download an adoption application click HERE.
Please note: HSJC does not accept checks and there is a $4 transaction fee for all debit/credit cards.
The adoption fee includes:                  
First vaccination (DA2PP & Bordetella for dogs; FEL4 for cats)
Deworming
Spay/Neuter
Heartworm test (dogs only, 6 months of age and older)
Microchip (dogs only)
The adoption fee does NOT include:
Bath or dip
Heartworm treatment
Treatment of any illness after adoption
Parvo testing
Feline Leukemia testing
Cat carrier
*please note: format may be distorted on some mobile phones. Please view this page on a desktop or call us for information*
Adoption Policy & Process
All adoption fees are paid directly to the Humane Society of Jefferson County and must be paid in full before any animal can be adopted.
All animals at HSJC will be spayed/neutered PRIOR to adoption. We will not make any exceptions.
All current or previous animals of the applicant MUST be up-to-date on their annual vaccines and have a history of routine yearly vaccinations. This is to ensure that our animal will receive proper Veterinary care after adoption. We require a vet to be listed if the applicant has had animals in the last three(3) years.
We require a meet & greet with all current household dogs for all of our adult dogs to ensure they will get along and can be fur-friends.
We cannot hold any animal without a deposit. A deposit places a hold on that animal for a certain amount of time so the applicants can have meet & greets, get prepared for their new animal, or if the animal has not been spayed/neutered yet and therefore cannot go home, this allows the applicant to hold them while they wait for surgery day. Deposits are non-refundable and non-transferable.
In order to adopt, you must show proof of residency. You must provide either a lease for a rental, mortgage statement, deed, or land taxes. *If renting, your lease must state pets are permitted and if a deposit is required, you must provide a receipt that you have paid the pet deposit. (Any county/state)
HSJC does NOT adopt out to homes who want to keep the pet outside only. A pet should be part of the family.
All cat/kitten(s) must be in a carrier before leaving our facility. You will need to bring your own pet taxi or purchase a cardboard cat carrier at our facility.
*The Humane Society of Jefferson County reserves the right to refuse adoptions to anyone for the protection of our animals – they are our top priority.*
Adoption Process:
Meet and interact with the animal(s) you are interested in adopting. Ask questions to make sure that pet is the perfect match for your family and lifestyle.
Fill out an adoption application.
Adoption counselors will check all applicants against all registries and contact the applicant's Veterinarian for a reference.
If approved, you will then pay the adoption fee (varies per animal).
Fill out and sign the adoption contract.
Adoption counselors will register your new pet's microchip for you (if applicable).
When the animal(s) is spayed/neutered and up-t0-date on vaccinations, the animal can then go home. Pets do not leave HSJC if unaltered unless it is a foster-to-adopt where the animal will be returned on a specific date to be fixed.
Remember your adoption day with a picture!
We recommend all adopted animals be taken to one of our participating veterinarians (Lakeway Animal Hospital, Town & Country, Animal Wellness, Ridgefield,  or White Pine Animal Clinic) for any additional vaccinations.
We want to help you choose just the right pet for you and your family. Please take a look at our adoptable pets then c'mon in for a visit. We would love to help you. Feel free to read some adoption tips from the ASPCA.
Guidelines for Rescue Groups
The Humane Society of Jefferson County is happy to work with any local, regional or national group. In order to assure that Rescue Groups are legitimate we do request supportive information.
Required Documentation:
Proof that the group is a nonprofit or affiliated with a nonprofit.
A copy of the group's adoption guidelines and adoption contract.
A letter identifying the veterinarian with whom the group works.
A list of persons authorized to act for the group.
General Rules
Animals entering the rescue system must be removed in a timely fashion. Animals will be made available to other rescue groups or individuals if not promptly picked up.
Once the animal is in the care of the rescue group we provide no further services.
Animals in the care of the rescue group may not be returned the HSJC except for behavioral or medical problems verified by a veterinarian. The rescue group must realize for these animals euthanization is a very likely outcome.
Click HERE for an application
FEES for Rescue Groups
Fees for each rescue group are evaluated individually. Every effort is made for the HSJC to recover costs and it is a requirement that all animals be spayed or neutered.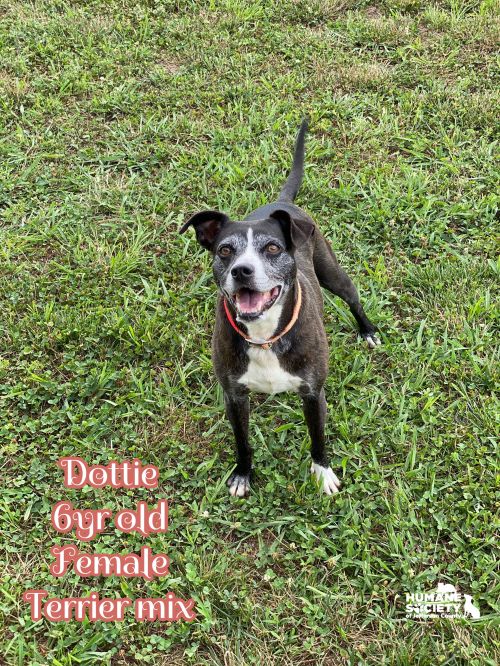 Mixed Breed, Terrier
Spayed/Neutered
Up-to-date with routine shots
Hey y'all! My name is Dottie and I am 6yrs old and weigh 28lbs. Im a mix and blend of all things beautiful! Don't let the grey face fool you, I am still a puppy at heart. Zoomies come naturally when I go outside, so give me a few minutes to run those out, take a video and show me later. I have done well with other dogs, farm animals, and small kids. Promise I would be the best decision you make this week! If you would like to meet me, please call 865-475-8930!
Adult, Female, Medium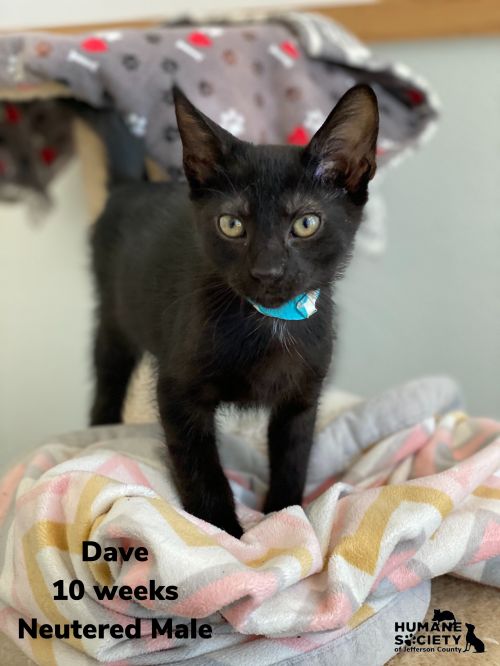 Domestic Short Hair
Spayed/Neutered
Up-to-date with routine shots
Bello! Im Dave. I am 3 months old on the outside, but really I am an old soul. The ladies here named me after a little yellow creature called a minoin. They seem to think it's cute. I am a pretty chill guy. Relaxing, napping, and being being loved on are my favorite things. Not looking for a party animal? I'm your guy! If you would like to meet me, please call 865-475-8930!
Baby, Male, Small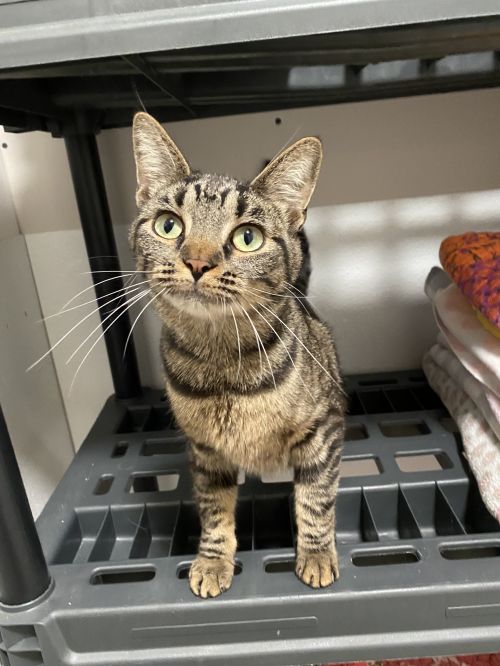 Domestic Short Hair
Spayed/Neutered
Up-to-date with routine shots
Feta is a 1yr old DSH, spayed female. She is a sweet girl and has the most silky smooth coat! Feta loves to be pet and shown attention. She loves other kitties, especially her room mate, Brie. Both kitties love to be with each other, but are not bonded. They would love a home together if possible.
Adult, Female, Small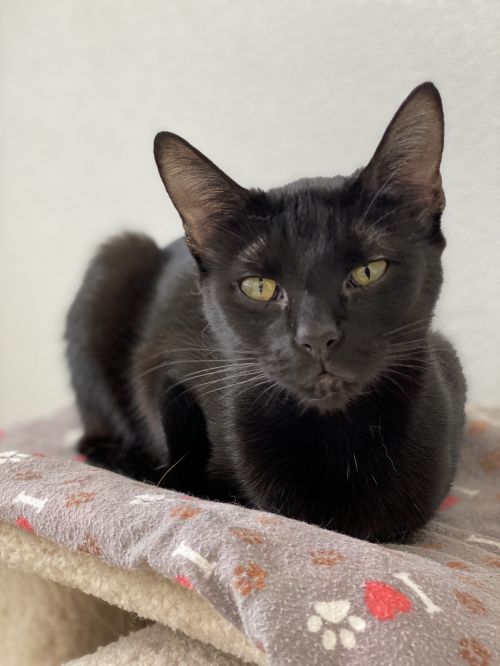 Domestic Short Hair
Spayed/Neutered
Up-to-date with routine shots
My name is Cleopatra and I am 2 years old. I am a petite girl and my personality definitely lives up to an Egyptian Queen. I love to be pet and told I'm pretty, but I prefer not to be picked up. You can call 865-475-8930 to set up an appointment to meet me!
Adult, Female, Small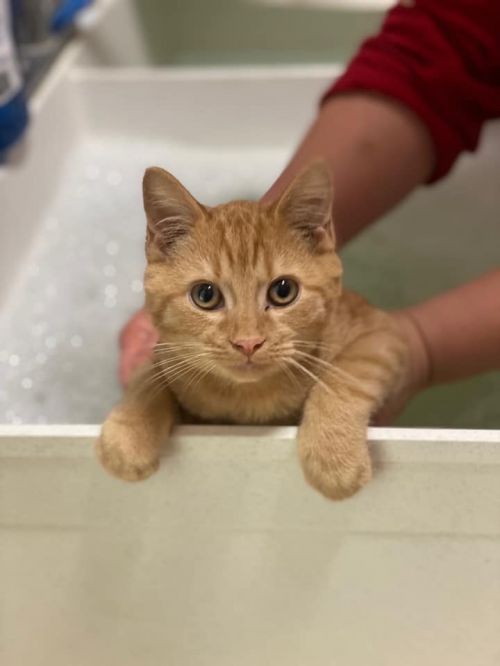 Domestic Short Hair
Spayed/Neutered
Spayed/Neutered
Up-to-date with routine shots
Hi, My name is Titus and I am a special kitty. I am a Manx (no tail) cat and was born with "Manx Syndrome", this means that I cannot control my urinary tract or my bowels. The nice ladies here keep me in a diaper and give me daily baths. I am a happy, healthy boy that loves to be cradled like a baby and rocked. You could say I am pretty spoiled. I was found when I was only 6-7 weeks old in the middle of the road covered in maggots. They had done some serious damage already, but the nice Director lady here cleaned me up and took great care of me until I could see a vet. They don't expect me to have as long of a life span as normal cats, they said something about 6-7 years max, but I love every day that I get to run these halls and play with the other kitties. I would love a home of my own where I don't have to spend the nights alone though.
Adult, Male, Medium
Display 3 Products per page