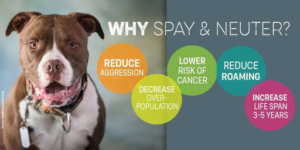 Last year in 2019, HSJC spayed and neutered over 600 animals with our mobile spay & neuter clinics.
Getting your pets spayed/neutered is key to saving lives and help end overcrowding at animal shelters. Sadly, millions of animals are euthanized in the U.S. due to overcrowding. The Humane Society of Jefferson County believes we can help reduce the pet population with low cost spay/neuter solutions for our county and surrounding areas. Pets are often healthier and their risk for cancer is greatly reduced after they are spayed or neutered. We offer low cost spay/neuter through Claws and Paws 4 A Cause for cats and dogs in East Tennessee.
The program is available to dogs and cats that are age 4 months to 10 years.
Spay & Neuter appointments MUST BE SCHEDULED IN ADVANCE AND PRE-PAID to reserve a surgery. Animals must be at least 4 months old and weighing at least 2 pounds. Call HSJC at 865-475-8930 or stop by our new location in Dandridge for more information.  We accept cash or credit/debit cards.  We charge a $4 processing fee for credit/debit cards.  We do not accept checks – thank you!
Cat S/n is $75
Male dog is $85
Female dog is $95
SPAY/NEUTER
Cats – $75
Male dog – $85
Female dog – $95
(Includes one (1) year rabies vaccine and pain injection)
There is an additional $10 charge for early pregnancy and an additional $15 charge for mid to late term pregnancy at time of spay.
All cats must be in an individual pet taxi. If you do not have a pet taxi, you can purchase a cardboard carrier at HSJC for $5. Cats cannot be in a cardboard box.
We charge a $4 fee to process credit/debit cards payments.  No checks.
VACCINATIONS/TESTS
DOGS
Rabies – $15
DHPP (Distemper) – $15
Bordatella – $15
Heartworm Test – $20
CATS
Rabies – $15
FVRCP (annual combo vaccine) – $15
FIV/FELV Test – $20
Feline Leukemia vaccine – $15
*Must have negative test to receive vaccine
*Pet Carrier (cat) – $5
ALL
Nail Trim – $5
Ear cleaning – $10
Microchip – $15
Heartworm Preventative $8 and up based on weight
Flea Preventative – $14